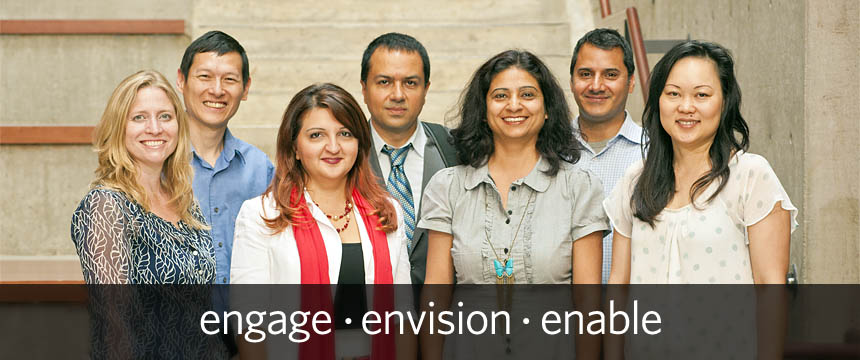 UBC's Information Technology department is one of the largest IT support groups in BC, and we are always looking for new team members. In addition, UBC is regularly recognized as one of the best places to work in the province, ranking as one of BC's Top Employers. Browse this site to view our active job postings, learn more about our various departments and gain further insights into careers at UBC IT.
Why Work at UBC
Who are we?
One of the largest employers of IT professionals in BC, consistently ranked as one of BC's top employers.
Who are our employees?
Leaders, passionate about technology, innovative, creative, strategic, and those who see change and challenge as opportunities.
What can we offer you?
A role in a leading-edge technology environment and a competitive total compensation package.
Why join the UBC community?
A workplace dedicated to excellence that provides opportunities to enrich your life and explore your career potential.
How are we committed to you?
A strategic framework guides our commitment to ongoing staff and community development.
Who We Are
UBC IT is comprised of seven departments, each with a unique area of focus and numerous distinct teams. Find out how each one contributes to our ongoing success, and meet the Directors that make it all happen.
We think UBC IT is a great place to work. But don't take our word for it; view profiles and interviews with employees across various teams to find out what a day in the life is like with one of BC's top employers.
Getting Started
View all of our active job postings to find the position that is right for you. We keep all open positions posted until they are filled, providing you the opportunity to apply to any and all positions that interest you.
What happens after your application is submitted? From there, we follow a defined process to discover the applicant that is the perfect fit for our team. Find out more about the steps in the application process here.
Submitted by thing1 on Thu, 01/16/2014 - 13:54