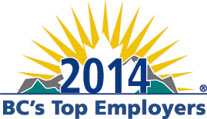 One of BC's Best Places to Work - UBC was recently recognized as one of BC's Top employers .
IT Career Framework
We are very pleased to be a part of a pilot program for developing and implementing a career framework for IT professionals at UBC. If you are interested in learning more about the framework, the job ladders and positions available in IT at UBC, please check out the Career Framework website.
Searching & setting up notifications for open positions at UBC
IT at UBC is distributed, yet integrated and opportunities exist within IT in the university's departments and faculties as well. For a broader representation of IT opportunities at UBC you can search and set up notifications within UBC's career site.
Search for open positions
The Careers page lists all available job openings, and is also a place for applicants to apply. The page can be sorted by clicking on column headings, to tailor your search to your interests.
Careers page http://www.hr.ubc.ca/careers/
Job Search and Application: External Candidates: http://www.hr.ubc.ca/careers-postings/staff.php
Internal Candidates apply through Faculty & Staff Self Service: https://www.msp.ubc.ca/
*Search by Job ID and set up notifications
The Job Search page also allows you to perform Advanced Searches. This tab enables you to search additional criteria such as Job ID, and save your search criteria as a 'Job Alert'. When new job openings are posted, the system will automatically notify you matches to your Job Alert. You will receive an email with a link to the UBC Careers site and your job alert search results. The system also posts a notification in the Notifications box on the Careers Home page. Further instructions may be found at http://www.hr.ubc.ca/wp-content/uploads/2010/09/Applying_for_Jobs.pdf.
Student Jobs
UBC Information Technology is a strong supporter of student employment. It gives us a chance to teach students about information technology, and it helps us learn about the technology needs of UBC students.
Co-op and Work Learn Opportunities
UBC IT partners with the UBC Work Learn and Co-op programs throughout the year to provide students with a unique work experience. Please refer to the listings below to learn more about the types of opportunities UBC IT has to offer. Please contact your Co-op or Work Learn Program representative for current opportunities and how to apply.
There are no positions available at this time. Check back later for future opportunities!