The resumption of in-person classes this academic term meant an adjustment to the teaching and learning environment as we continue to undergo the impact of the COVID-19 outbreak. The UBC IT Audio Visual (AV) team spent this past summer preparing for an in-person teaching environment with solutions that were agile and adaptable to the changing circumstances.
As there are still a number of students that cannot attend classes physically, the AV team focused on enhancing classrooms with recording and streaming capabilities. That way, instructors have the option to provide in-person teaching, as well as virtual instructions to students who could not attend classes physically. Prior to the COVID-19 outbreak, UBC Point Grey campus had approximately 40 classrooms (out of 300+) equipped for recording. With limited resources and time, the team updated an additional 120 rooms with temporary livestream and recording capability. In addition, the team also built 28 mobile Zoom carts and 35 portable drop-in recording kits that includes a PC, camera, and microphone that can be easily setup to livestream and record in any space.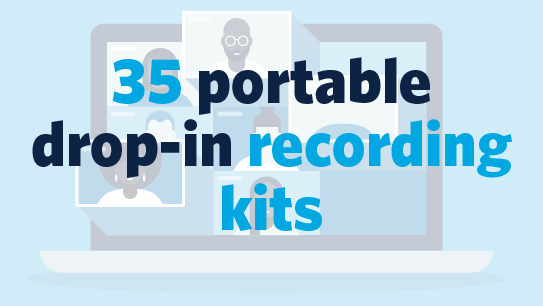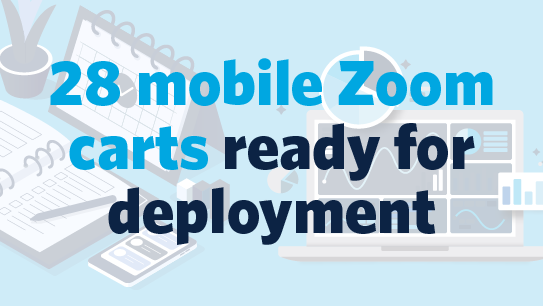 With the increase demand in using these services, the AV is averaging 120 tickets a day, which is about 118% increase.
"This September has been nothing like what we've ever seen, both in what needs to be supported, the expectations, and above all the volume of support needed," says Garry Der, Manager, AV Support.
"As of Sept 27, we have 28,000 prescheduled recordings for the Point Grey campus."
To provide on-site support in classrooms, the team has over 40 support staff, including 24 Learning Space Stewarts (student staff) offering assistance. The Learning Space Stewards assisted with setting up the classroom spaces, making sure the furniture is where they're supposed to be and ready for teaching, as well as supporting the Help Desk with responding to tickets and phone calls directly from instructors, and deploying the portable recording kits.
How to Submit a Request for Recording
To schedule a recording, submit your request via the UBC Audio Visual Recording Request from.
What's Next?
As the current solutions in place are meant to be temporary to support the hybrid environment for this term, the AV Team will be reviewing what the future teaching and learning needs are for the university after this term, which will be heavily based on faculty and student feedback.
To learn more about the Recording and Streaming services that UBC IT AV Team provides, please visit this page.
This article was published on Mon, 10/04/2021 - 10:40