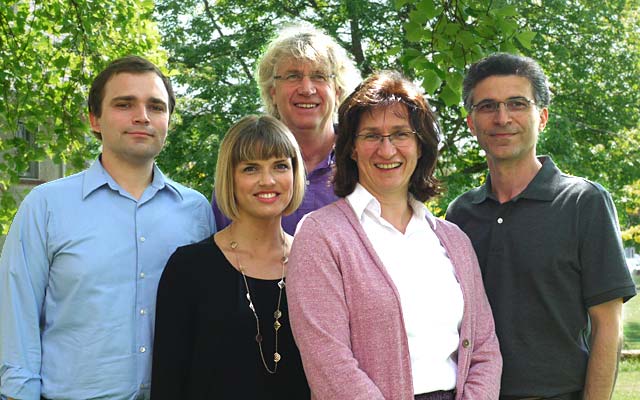 UBC Studios, part of UBC Information Technology, recently accepted an Award of Excellence in the Integration of Technology in a Formal or Non-Formal Education Program from the Canadian Network for Innovation in Education (CNIE) along with Faculty of Land and Food Systems and CTLT.
The award was received for work on SOILx (www.soilx.ca), a location-based teaching and learning tool for soil science. This innovative tool uses mobile technology and GPS to connect educational content (e.g. text, graphics, and videos) to specific geographic locations.
SOILx is an important resource, not only for students and teachers of soil science, but for learners in related fields of study such as agriculture, forestry and environmental sciences. It is an open education resource accessible to anyone in the world. SOILx is one of the latest creations of Virtual Soil Science Learning Resources team led by Dr. Maja Krzic who has been leading use of online technologies in soil science education.
The SOILx project was a collaborative effort across UBC and several other Canadian postsecondary institutions, with substantial contribution from UBC IT's own Saeed Dyanatkar from UBC Studios, who worked as the digital producer. The project team also included UBC's Dr. Maja Krzic (Associate Professor, Faculty of Land and Food Systems / Faculty of Forestry), Julie Wilson (Faculty Land and Food Systems), Chris Crowley (CTLT) and undergrad Computer Sciences student Nathan Sidles as well as Dr. Angela Bedard-Haughn (University of Saskatchewan), Dr. Nathan Basiliko (Lakes Centre, Laurentian University), Dr. Paul Sanborn (University of Northern British Columbia) and Kent Watson (Thompson Rivers University).
The highlight of this project is the innovation in using existing technologies such as Google Fusion Tables, Wordpress CMS, and an Augmented Reality Platform (Wikitude) in order to create a new online open tool. 
"The added value of augmented reality is that while users are in the field, they can watch a video on their handheld device that explains different layers of soil, for example, without having to disturb the physical site," explains Saeed Dyanatkar.
As an accessible online resource, the project supports the exchange of ideas across fields of study, academic disciplines and educational approaches. The accessibility of the SOILx website to anyone interested in soil science and related fields of study helps to strengthen the community of practice in soil science not only in BC but also throughout Canada.
"The system is designed to be expandable and to import data from variety of resources", says Dyanatkar. "It can accept user-generated content, which means any user with some expertise in soil science, could submit their data via the website to be included in the database. There is also potential for importing large government GIS information in order to make them accessible for the public."
SOILx is just one component of over a decade's worth of collaborations from the Soil Science Learning Resources group (www.soilweb.ca). The most recent initiative of this group was carried out in collaboration with the Canadian Society of Soil Science (CSSS). The newly created CSSS Soil Science Education Committee provides a platform to enhance Soil Science education at high school, undergraduate, and graduate level across Canada.
Photo: Part of the SOILx team  (from left to right): Nathan Sidles, Julie Wilson, Maja Krzic, Chris Crowley and Saeed Dyanatkar  
This article was published on Wed, 07/16/2014 - 09:57