General Questions
Upgrade Instructions
If you are a user of the Student Information System (SIS), please see the following question. If you are not a SIS user and have not independently obtained a valid license, you are not permitted to use Oracle Java for commercial purposes at UBC. You must uninstall any version of Oracle Java that is not used for personal/instructional purposes.

If you are using Oracle Java for personal or instructional purposes, or use it for EduCloud applications, your can update your device's java license through the Software Centre if you have a UBC owned device supported by System Centre Configuration Manager.

For UBC supported devices not supported by System Centre Configuration Manager (ie. Personal devices) and non-UBC devices, you can download and install the latest version of JRE 8 from the Oracle website.
If you are an end user of the SISC, BBAE, or SCMC Java-based SIS applications, please install or upgrade to the latest version of Java, by following the instructions in the splash page of those applications, using the Java Auto-Update feature or working with your desktop support team.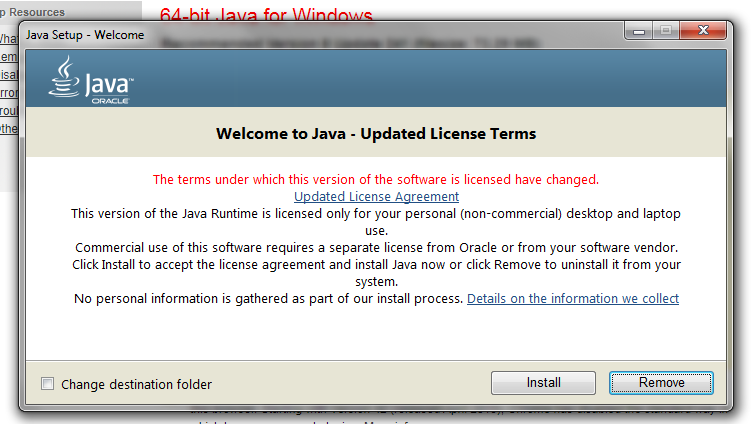 You can accept the warning about non-commercial use of Java as UBC now has a commercial license for Java on the desktop.

However, this only applies to using Java for these three Student Information System applications and only while UBC remains licensed. If either of these two conditions are not met, you must uninstall Java.
We recommend migrating to OpenJDK from one of the following vendors below to ensure applications meet security and licensing requirements. Applications running on UBC IT's EduCloud servers would not need to take any action until December 2020, as these applications currently meet the requirements via EduCloud Server license agreements.
RedHat, through RHEL for RHEL systems only
Oracle
Service owners can also choose to negotiate a paid commercial license with Oracle. However, we strongly encourage following one of the above recommendations instead. Please note that any negotiations with Oracle should be checked and coordinated with UBC Procurement.
This page was last updated on Fri, 06/05/2020 - 10:49