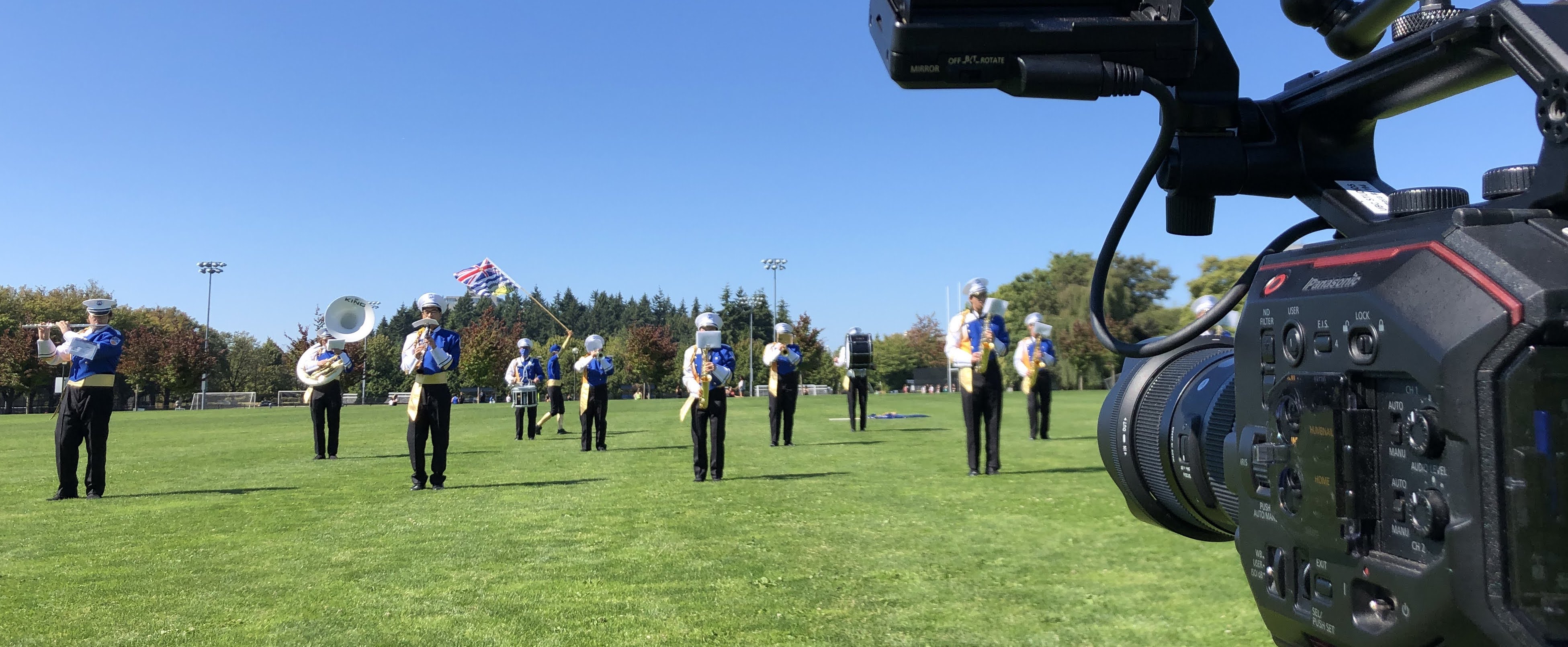 No September is complete at UBC without the anticipation of IMAGINE and Create, two signature student events that kick off the start of the school term. This year, the daunting task for event organizers at both campuses was how to reimagine an iconic event virtually for more than 12,400 first year undergraduates starting at UBC.
While most of campus has adapted to remote teaching, learning, and work, event planning has presented a different set of challenges. Moving an event to a virtual format can be daunting, noted Gideon Dante, Team Lead at UBC Studios Okanagan. "We want to show our clients the possibilities, how we can make an in-person event just as successful in a different format."
Having recently partnered with Ceremonies and Events for UBC's first virtual grad ceremonies in May, staff from UBC Studios and Audio-Visual (AV) team worked closely with colleagues in the VP, Students portfolio to deliver this year's Imagine Pep Rally, Create and portions of the Jumpstart orientations in a virtual format. Having staff expertise in the areas of production and content delivery in-house and under one department means more creative results for clients, says Chris Spencer, Producer at UBC Studios, who was the project manager for filming and production of the Imagine UBC Pep Rally. "We understand how people consume media, and how to provide programming to meet this need."
Bringing in UBC Studios and AV staff meant considering different alternatives without compromising the overall integrity and tone of the event. "One of our most significant challenges was trying to capture that innate sense of awe when you're walking into an arena of more than 7,000 students, "explained Elise Goodreault, Student Engagement Manager for the Centre for Student Involvement and Careers. "IMAGINE has always been a pivotal moment for undergraduates – it's the first and last time the First-Year class is all in one place, fostering a sense of collective unity."
The UBC Studios team suggested creative elements including comedic vignettes and a variety of production treatments - small details to create a big impact for student viewers. AV staff provided expertise on the broadcast experience, weighing in on the pros and cons of pre-recorded content versus livestream. Working in sync across both campuses also meant the programs could be aligned in look, feel, and tone, and that both teams could adapt programming for their own needs, with shared graphic files, video footage, and resources for animation.
Unlike the Virtual Grad which was run livestream (similar to a live performance), the Imagine Pep Rally, Create, and portions of Jump Start are billed as a "premiere" – the events are advertised for a specific date and time, and the event goes "live" for simultaneous viewing. It takes some of the pressure off having a synced livestream, and the event will be broadcast on YouTube and Panopto platforms to broadcast across time zones.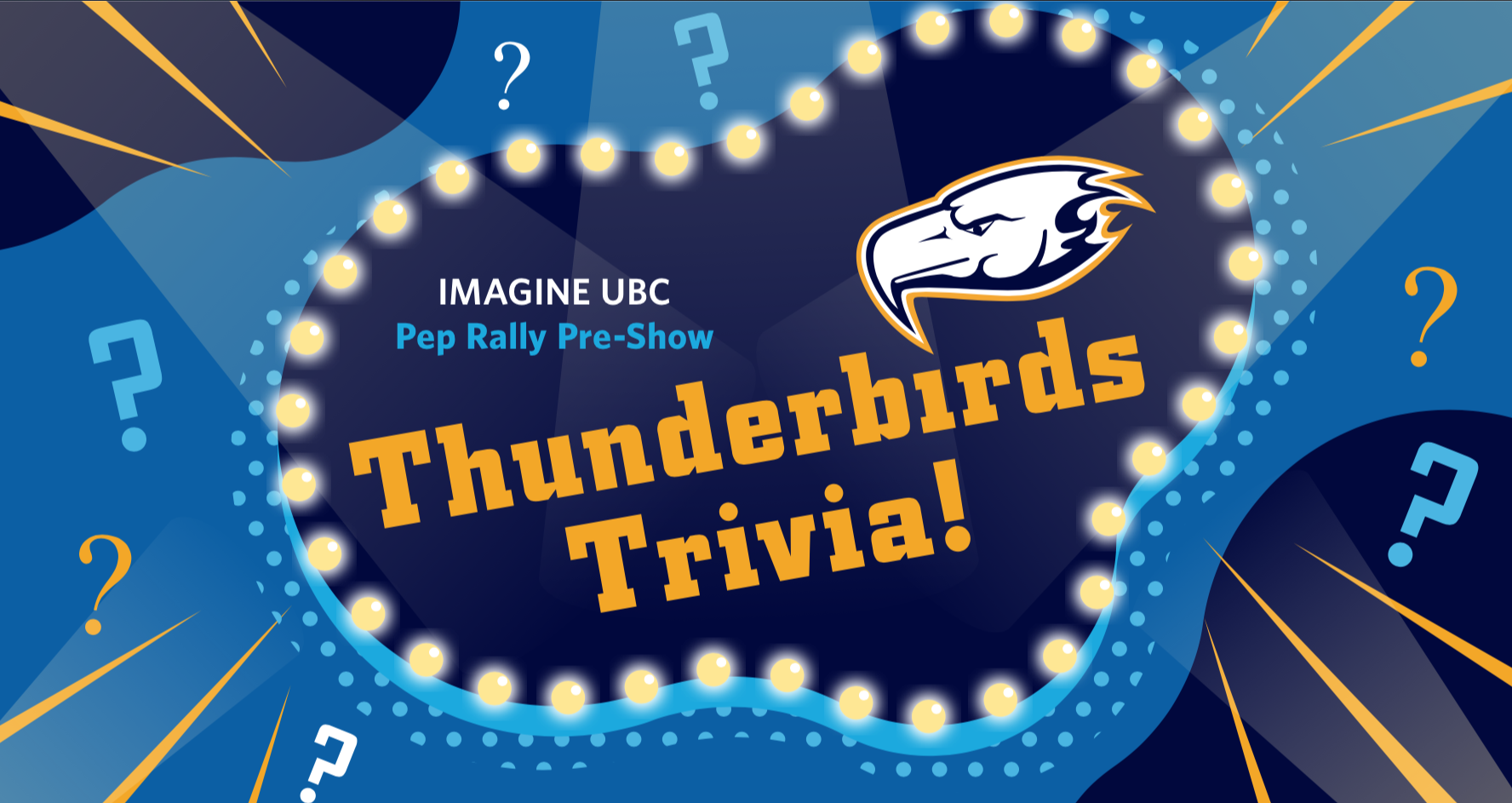 Interactive components like the Thunderbird trivia were designed for real-time participation with viewers.
The end result for this September is a series of virtual experiences for students participating in Imagine and Create, with a content lineup of on-demand and live audio and video programming, interactive trivia games, and a Zoom mural featuring a pre-recorded welcome with 130 student leaders. The format also provides students with online platforms to engage with each other – a significant substitute to replace the face to face interaction that defines such a large event. Moving to an online event also means greater inclusivity for faculty and staff to tune in and participate, with technology enabling a sense of belonging to the UBC community, even if you aren't a first-year undergrad.
"What has impressed me is the level of technology UBC is utilizing to provide this virtual experience to students," says Rob Giardino, a Student Experience Coordinator, wrapping up the Okanagan Jump Start last week and making final preparations for the Create kick-off. "I still believe that attending an in-person event like orientation provides students with a felt sense of gravitas and astonishment, as we welcome them to UBC. However, when students experience what we have planned for this year, and when they appreciate the complexity and access they have to faculty, staff and one another, I hope that those feelings I mentioned previously will persist."
Faculty, staff, students and alumni are invited to participate in this year's Create and Imagine events on Sept. 8 – please visit http://www.ubc.ca/backtoschool for the broadcast link and event details:
Create Kick-off (UBCO): 9:45am
Imagine UBC Pep Rally: 11:15am
This article was published on Thu, 09/03/2020 - 09:31