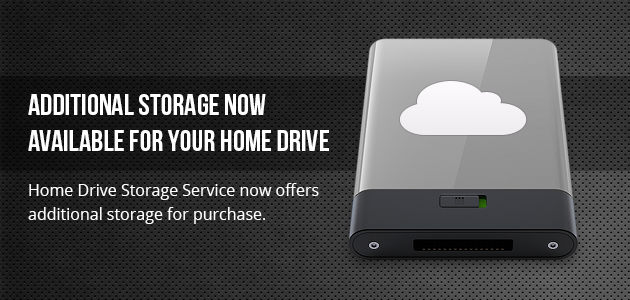 The Home Drive Storage Service was launched in January 2012, offering UBC staff and faculty 20GB of free storage at no cost. This private cloud storage service allows users to securely store their personal files to a central service. To meet users' increasing storage demands, the next phase of this service now offers additional storage by request.
Pricing Model
Additional storage is available in increments of 10GB (up to a maximum of 100GB) for the price of $7 per year. Fees will be billed monthly to a single speed chart. To request additional storage, users will need to contact their IT Administrator to submit a request on their behalf. If you would like assistance in locating your IT administrator, please can contact the IT Service Centre Help Desk.
Disk Space Usage Warnings
Users will receive a disk space usage warning when they reach 90%, 100%, and 150% of their assigned quota. Customers exceeding the 100% threshold have a 30 day grace period before their directory is locked (unable to create new files or folders). Customers should reduce their usage below 100% before the grace period expires by either requesting more quota or deleting unneeded files. Your directory is locked immediately if you exceed 150% of your assigned quota.
For more information on the Home Drive Storage Service, please visit the Home Drive Storage Service page.
This article was published on Tue, 07/23/2013 - 15:34