Note: This listing is an archived project
Overview
Completed in November 2012, the new Pharmaceutical Sciences Building contains the new University Data Centre (UDC). The UDC addresses the university-wide need of suitable space for housing computing infrastructure.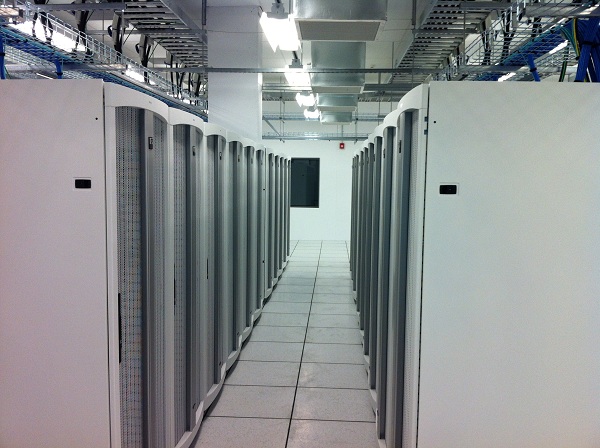 ---
Purpose
Having suitable space for housing computing infrastructure addresses the research, teaching and administrative needs of UBC. Researchers are now able to locate their existing and new equipment in the data centre without ongoing operational costs. One-time costs will be required at initial installation and can be budgeted as renovation costs, these charges will be based on rack space required. If there is a requirement for UPS and generator power there will be an additional one-time charge based on power needs.
---
Goals
To provide researchers with data centre space with predictable infrastructure costs
To reduce UBC's overall carbon footprint: The energy-efficient design, in conjunction with leading-edge cooling technologies, will allow UBC to reduce its power utilization and overall carbon footprint.
For more information, please see the Framework for UDC Operations (Draft) (PDF 557 KB)
---
Timeline
The new data centre was completed in November 2012 and is now operational.
---
Contacts
For more information on the UDC, please contact Bob Macdonald at UBC IT: (604) 822-8652 or bob.macdonald@ubc.ca.
Researchers who are writing proposals for HPC infrastructure and departments or units considering increasing computing facilities should contact the UDC committee to learn more about the new facility and to discuss power and cooling options available.
UDC Committee
Mark Thachuk, Chemistry
Brett Gladman, Physics & Astronomy
Philip Austin, Earth & Ocean Sciences
Jason Kennedy, MedIT
Claudio Pini, UBC IT
Bob MacDonald, UBC IT
Michael Thorson, UBC IT
Luca Filipozzi, UBC IT
Teresa Syrnyk, Facilities Planning
Note: This listing is an archived project