Last month, UBC IT launched our #readyforcampusreturn series, which sheds light on the incredible IT teams who are working behind the scenes to support UBC's transition back to campus.
Q&A with UBCO's Network and Infrastructure Team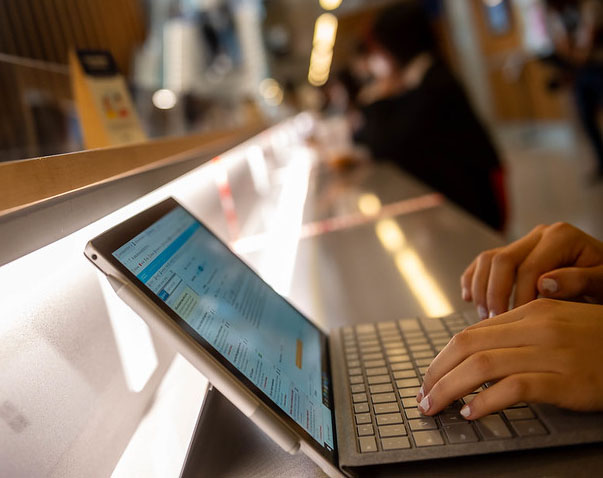 One of the final pieces of our #readyforcampusreturn series is a Q&A with Anthony Knezevic, Associate Director, IT Service Delivery at UBC's Okanagan Campus. His team has been instrumental in deploying residence wireless internet service (commonly referred to as ResNet) in time for the fall return to campus. Residence wireless seamlessly connects UBC student residences with the campus network.
This story builds on Part 2 of our series featuring the UBC IT Network & Infrastructure Team led by Senior Manager Eric Bourdon. In this earlier story, we covered how increased WiFi connections at UBC's Vancouver campus have led to better wireless coverage. In the Okanagan, similar pressures for WiFi at the start of the new term created a need for significant network enhancements.
Thank you for joining us. Tell us about the work your team has been doing over the past six months.
Anthony: As you may know, UBC Okanagan decided to move to an in-house residence wireless internet service. This was precipitated by our previous external contract coming to expiry on August 31, coinciding with the start of the Winter Session Term 1. We had been discussing options with Student Housing and Community Services for a while. The number of student residences on campus expanded greatly over the last few years with two new residences, Skeena and Nechako. Student bandwidth demands and the cost of Internet services with outside companies have also dramatically increased.
Last year, a cost analysis indicated we could deploy a wireless internet service more cost effectively in-house. There was an intent to go ahead earlier in the new year, however, funding wasn't secured until April. We had just a few months to put everything together. The residences are not built ready for WiFi so there were a lot of modifications that needed to happen. The end result was a fully bolstered wireless service that allows students, faculty, and staff to roam seamlessly between residences, classrooms, and other buildings.
We have seen impressive data around the scope of your project. Could you give us the numbers?
Anthony: We fully re-cabled two buildings, deployed ubcsecure wireless in 20 buildings, around 2120 student rooms, and added roughly 800 Access Points, nearly double the number of access points as before.
What were some of the challenges?
Anthony: Supply chain delays hampered the ability to get equipment in hand, configure and install it. Everything – cabling, network equipment, conduit and surface mount materials – has lengthy delivery times and further, unanticipated delays or disruptions in shipping. The other challenge was our small team had other projects, such as new buildings, to turn over at the same time. We managed to get the last buildings online about six hours before our previous Internet contract expiry deadline. The UBC IT Network & Infrastructure team on UBC's Vancouver campus were instrumental in sharing their experience and design knowledge. We duplicated that design and multiplied it through the buildings we were working with. The staff that look after plant cabling pulled out all the stops. One of the newest buildings was in the final stages of coming online, so we had to come up with modifications and ways to get around that. We still have work ahead, tweaks, changes, performance enhancements, documentation.
"Supply chain delays hampered the ability to get equipment in hand, configure and install it. "
Anthony Knezevic, Associate Director IT Service Delivery at UBCO
Who helped to make all this possible?
Anthony: Firstly, I would like to thank my team for their herculean effort to make this possible. It was a huge challenge and they rallied to deliver. It was a high-pressure project. I thank the many team members on the UBC IT Network & Infrastructure team across both campuses, BCNET for their assistance with connectivity, the IT Service Centre who are fronting a lot of the calls. It's been a large coordinated team effort to get across the finish line. With some tweaks and changes, we are hoping to make it even better in the next few months.
And kudos to the UBCO Student Housing and Community Services team for putting their faith in us to be able to pull this off, timing was tight and they maintained their support.
That's great. And things seem to be running very smoothly.
Anthony: We had around 2000 students or more move in over the long weekend in September. There were small issues along the way but that's to be expected. There were no showstoppers. Overall, anecdotal satisfaction levels are high. We are still working with individual students through some minor issues and making modifications to optimize service through all the buildings.
Your team had to work hard throughout the summer amidst a background of the pandemic and wildfire challenges. We hope you are able to all take vacation sometime soon.
Anthony: We needed a period of consolidation first and then the team can take a well-earned break when everything is up and running!
Useful links
Enjoyed this story? Check out our other #ReadyforCampusReturn stories below:
This article was published on Thu, 09/23/2021 - 13:06